Hiking is an enjoyable activity, and it's among the most preferred activities in Ghana by most tourists during their holiday. Hiking is more than regular walking or cycling; it is an exciting activity, especially when you are many. The best hiking places include:
Mount Afadja
Mount Afadja is situated at the border of Ghana and Togo in the Volta Region of Ghana. It is the highest mountain in Ghana and entire West Africa; it is 885 meters above sea level. The peaks of Mount Afadja offers fantastic views of Ghana, Volta Lake, Kpalime, Togo, and Mount Kloto. The mountain can be accessed through a compact forest and a four-hour climb. Along the way, you walk via three levels of waterfalls; most tourists hike Afajato and Tagbo falls. It is among the most toured regions in the Volta Region and Ghana in general. The mountain houses scarce animal species such as butterflies, birds, and other species.
Eastern Ease at Mt. Krobo
Most tourists visit Mt. Krobo to enjoy the beautiful environment and also hike. It offers a 4km hiking distance, two hours walk or one and half hours while cycling. The best strategy to hike this mountain is by walking to the peak and resting at the rocky plateau for some minutes before going down the mountain.
Bunso Arboretum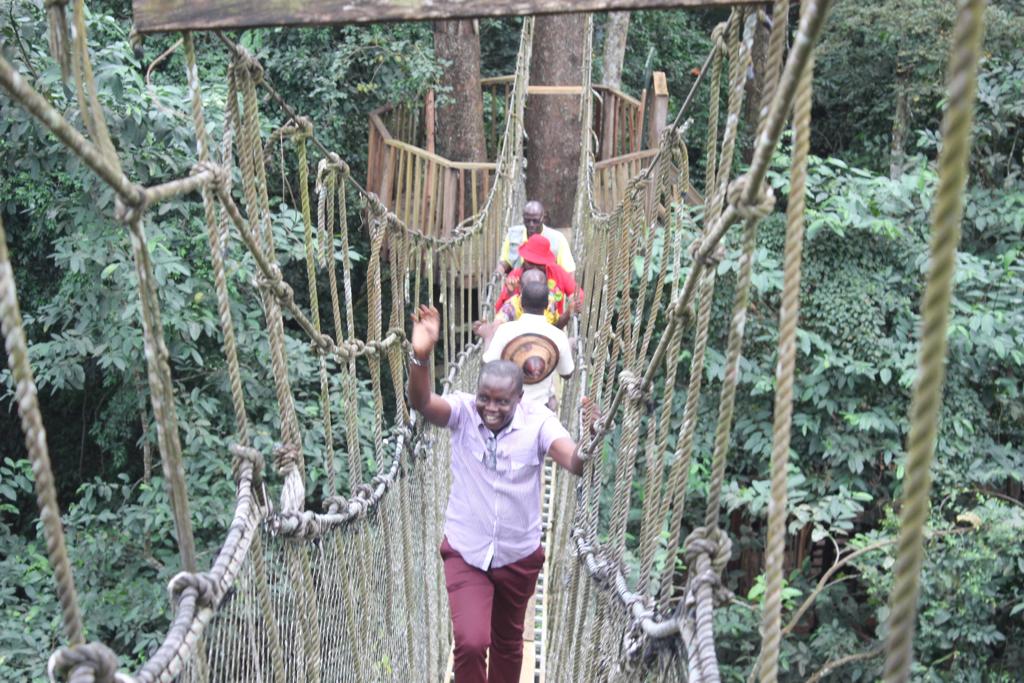 Bunso is a conserved forest that covers 16.5 hectares. Around half of this forest is covered by semi-deciduous trees, and the remaining half consists of indigenous trees such as fruits, nuts and timbers. Bunso Arboretum path has 11 miles forest canopy pathway. There are several restaurants and rest places around this place, such as the Lindador Restaurant and Rest point on the Accra-Kumasi Road.
Accra Plains
Accra city and its outskirts offer excellent hiking opportunities. The Shai Hills Resource Reserve occupies around 20 sq miles and is a famous hiking destination. Various picnics and festivals are held in Accra plains; in 2017, the national biking ad abseil festival was held in this place.
Amedzofe Peaks
The Amedzofe peaks are a perfect hiking area with stunning variations of plains and forest routes. It is an incredible place full of friendly and welcoming people from different cultures and lifestyles.
Volta's Vaults
The Aflabo Falls and Cave in Hohoe is a route to the lush Volta region. The route has fascinating highlights, such as the rainforest encompassing the Leklebi village and the Mona monkey sanctuary. The ancient caves of Likpe Todome and six other stunning mountainsides caves are gorgeously dispersed in this region.
Ankasa and Amansuri
The Ankasa and Amansuri are among the best conservation places that grant hiking trails through protected habitats and seaside settlements. You can see the neighboring Ivory Coast from the Nzulenzu stilt villages at Benyin.
Ashanti Gold Paths
Lake Bosomtwi is a beautiful water body surrounded by several towns. It is an ideal hiking place where you can spend your day enjoying. Lake Bosomtwi is near the Bobiri woodland resource, and the cocoa ranch makes the site an incredible tourist destination to many people. It is approximately 30km from the capital of Ashanti in the southeast of Kumasi. The best time to visit this place is between April and October.
Mountain Gemi
Mountain Gemi (German Evangelical Missions Institute) is situated in a raised region in Amedzofe town. The German missionaries constructed gemi during the ancient days, and it has a population of more than 3000 people. The Oti Waterfalls flow next to Mount Gemi, you get a chance to explore two tourist sites simultaneously. It is a fascinating area that offers a fantastic time to all tourists who go hiking here.

Most of the best hiking areas are occupied by friendly and welcoming people and, therefore, exciting and easy hikes in these regions. It is advisable to pack some water and food, apply sunscreen while going to hike. It is exciting to hike around the fascinating regions full of savannahs and forest trails.